PEA & HAM SOUP:
Another popular soup dish in Ireland is Pea and Ham soup. This basic dish is easily made but tastes wonderful and is greatly welcomed on a cold winters day.
INGREDIENTS
• 1 oz butter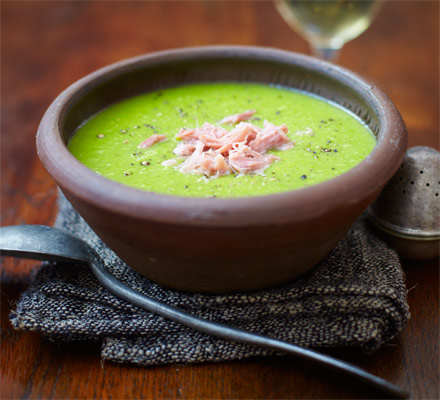 • 1 onion, chopped
• 1 pint vegetable stock
• 4 fl oz milk
• 8 oz cooked potatoes, diced
• 6 oz frozen peas
• 4 oz cooked ham, diced
• 1 tablespoon fresh chopped parsley
• Salt and pepper
• 1 tablespoon single cream (optional)
METHOD
Melt half the butter and sauté the onion in a saucepan until soft but not browned. Add the stock and milk and bring to the boil. Add potato and peas reduce the heat and simmer for 15 minutes until the peas are tender and the potato starts to fall apart. Puree in a blender then return to the heat and stir in the ham and parsley. Season with the salt and pepper. Stir in the cream if desired. Heat through.
Serve with fresh baked Soda Bread.
IRISH SKINK:
Skink is an old Irish word for broth. Irish Skink is a delicate soup made with summer vegetables, enriched with a liaison of cream and egg yolk.
INGREDIENTS
• 3 sticks of celery, trimmed and finely diced
• 6 cos-type lettuce leaves, rinsed and chopped
• 4oz green peas
• 4 spring onions, trimmed and chopped
• 1 dessert-spoon fresh chopped chives
• 1 ½ to 2 pints chicken stock
• 3 fluid oz double cream
• 1 egg yolk
• 4 sprigs parsley, 1 sprig thyme and a bayleaf tied together
• Chopped parsley to garnish
• Salt and pepper
METHOD
Place the vegetables, herbs, seasoning and stock into a saucepan.
Bring to the boil.
Cover and simmer for ½ hour or until the vegetables are tender.
Remove the bouquet garni.
Blend the cream and egg yolk and add to the soup.
Heat without boiling.
Add salt and pepper to taste.
Serve with a light sprinkling of parsley.