Music and Me !
a brief account of my time in music - Gerry Costello
Gerry Costello
My own earliest memories of music in Skehana were my own grandparents listening to Radio Eireann and to local Musicians such as Mick Finnerty, Walter Costello, Martin & Tommie Scanlon, (all now gone to their eternal rewards), who were recorded in Costello's Pub, Skehana, for a programme called "Ceolta Tire" with Ciaran MacMachunna and his wife, Dolly McMahon. There seemed to be many early recordings for radio made in Skehana in the 1950's and early 1960's for such programmes as, "Ceolta Tire", and "Ceílí House" (Then presented by Tuam man, Séan Ó'Murrachu) who was an uncle to Galway Bay FM's and ex- Digital man, Gerry Murphy. My next memories are the twice yearly plays and concerts which were put on in "the old school" by the then curate of Skehana, Fr. Tom Molloy. Incidentally Fr. Tom Molloy was a brother of the very well known play-write M J Molloy from Milltown and a former director of the Abbey Theatre in Dublin. The artists who were most popular in these days were Musicians  such as Tom Costello, the Late Seán Costello, P.J. Costello, James Costello, Patrick Finnerty, the Late D.J. Mullins (Cooloo), John Kelly (Caltra), Paddy Lynskey, etc. Fr. Molloy's long time friends, Rita and Sara Keane, aunts of Sean, Matt and Delores Keane from Caherlistrane were also among the contributors who performed in many of these concerts which were organised to fund raise to clear parish debts which were incurred prior to his arrival here in 1964. He also was instrumental in starting the very popular Carnival which was run in Menlough for many years. The Dunne Brothers from Cloonkeen-Abbert were probably the first to start a dance band in the parish in the late 1950's and early 1960's. Joe Killarney from Ryehill god together a band called "Quicksilver" from which Des & John Kelly met up with some more students in Dublin and went on to form "The Capital Showband". In more recent times, another man from the village of Cloonkeen Abbert, Joe Skehll, has proven himself to be both a fine radio presenter and expert on the American Country Music Scene. Joe became a popular and much listened to presenter of the American Country Music Show on MWR FM Radio Station in Ballyhaunis. Joe has been an armature radio enthusiast for many years as well as being an exceptionally talented presenter on commercial radio.
In the early 1970's, I became involved in a local group which consisted of Paraic Crehan (Newbridge) on Guitar, John Madden (Menlough) on Drums, Paraic Jordan (Colemanstown) on Guitar and Vocals and myself on Organ and Vocals. Probably due to our inexperience and the times that were in it then, we were not destined for a long future. However, Paraic Crehan later went on to play with such popular Showbands as The Magic Band, Linda Martin & Chips, to name but a few, He is still involved in the Music Scene in Galway City. Paraic Jordan & John Madden are no longer in the Music Scene but Paraic's Family have a Family Group who are quiet talented and on the road at present playing up and down the country and are very popular down south in the Limerick, Kerry and Cork circuit.
I, myself, have kept on being involved in the Music Scene over the years and have played with various bands and musicians during this time. The Dynamics would be the longest stint I did in one band. But times were good in those years and gigs were plentiful. We enjoyed a long standing residency in what used to be Ryans Hotel and while there we got to know many of the big bands who stayed over there when they played in Galway City. Dickie Rock and his band, The Rocky Tops, Brendan Boyer, were regular visitors to our gigs. Gay McIntyre used to join with us in the gig whenever he stayed there. We also entertained many celebs in our time there – probably Maureen O'Hara being the most famous.
After that I moved to "Autumn Shades" which I remember as a very busy band playing in places from Tipperary up to Cavan and throughout the mid-lands. During this time I also gigged with the Roisin Fallon Band (Mother of Mike Denver). Autumn Shades also gigged sometimes with Daniel O'Donnell when he was really unknown in the mid 80's. In those days Daniel used to stay in Galway and used to visit Ballygar very frequently.
I then moved to Cascade for some years and after the hectic schedule of Autumn Shades, holding a full time job and my own business as a Photographer and Videographer really getting busy we kept this group reasonably low key and only played around county Galway. After that I had gone full-time into my own business and was once again on leaving Cascade I joined Stateline (Ex. Murphy & The Swallows). We had a line-up change after a few years when Geoff left to have a break and he was replaced by Gert from Frankfurt, Germany who is the best lead guitarist I have ever had the pleasure of performing alongside. Even though it was a four piece band we had a a big band sound with the best of professional equipment and sound technology. I had the opportunity of playing with the best musicians I have ever played with, a sound that any showband would be proud of and will always remember my time there with great fondness. Everybody in this group was involved in their own self employed business and after a number of years it became necessary for us to call it a day as business was requiring more time and energy.
Then I moved on to Easy Street – a Roscommon Group when John Gunning decided to leave and return to the UK to join his son who was and still is the Bass player with the Barry Manilow Band. Easy Street were made up of musicians previously with The Premier Aces and The Brendan Shine band. We played almost exclusively arould Roscommon, Longford, Sligo and Westmeath doing just a few venues in Co. Galway. We had one lineup change when Aidan left to join The Declan Nerney Band and Chris took his place. In 2009 I retired from the circuit as I felt I now needed more time to enjoy life and take it easy. The music business also had past it's sell by date – so had I for that matter ! – and it was time for a newer generation with a fresh approach to go forward.
In all these years, I have also been involved in several recordings and have worked as a session musician (not one of the better known ones) on other recordings. I feel lucky to have been part of that great body of mobile bands and musicians that criss-crossed the countryside when the scene here was busy and alive. I have some wonderful memories and have made many, many wonderful friends, some of whom have gone on to be household names across the world and, indeed, many more living in far away places throughout the world. I notice some are catching up with me through finding my own photography web site and I have re-kindled the communication with quiet a few of guys and girls that are now abroad such as Philip Smyth, Kim Newport, Gerry Gallagher, Dave Moynaghan, Aileen Cantwell, Spiros Steinoff, Rachell O'Toole (daughter of the late Fran O'Toole), to name but a few. I've also, as a photographer, done many album covers for various musicians and and singers – one that springs to mind is well known Scottish singer/songwriter Isla Grant. Isla does many her recording here in Co Galway in Claren, Headford. Her record producer is Tony Maher who helped me in many ways over the years and through him I got to know Isla and got the opportunity to work with her. Of course her husband, Al Grant, is very popular here in Ireland also.
During our time on the road we also have had our share of "disasters" as any band or musician will tell you, breakdowns, heaters in vans not working, turning up at cancelled venues that did not bother to inform the band, freezing halls and lounges, band members failing to turn up, etc. etc. etc. but a lot of fun and enjoyment was had also. It was hard work also and the travelling late at night and the bad weather in the dead of winter was sometimes dangerous and difficult.
As in all walks of life, some great friends have gone on to their eternal reward and names such as Mike Keane, Kieran Murphy, Joe Conway (Gary Street), Carla Smythe, Tony Treacy, Don Allen, Gerry Walsh, Francie Higgins, John Kelly, Tony Naughton, Bobby Murphy, Eugene Kelly, Dick Keating, the great Satch Wright (in the cowboy hat below), spring to mind. I worked with all of these at various times during the years and, indeed, took to the stage with most of them and on local radio with the great Don Allen.
In 2009, I decided to retire and leave the scene to the younger musicians coming along but ….  as it often happens …… I was asked to go back on the road in 2014 and succumbed to the temptation or as many musicians describe it as "the addiction". So I'm still here at least and doing an odd gig with Galway Band "Wagonwheel". Nothing busy or strenuous but just keeping in practise and trying to keep the arthritis in the fingers at bay – or at least exercised – for as long as possible ! ! Of course I'll keep this page updated if anything exciting should happen and do feel free to contribute.
Latest Update  January 2nd. 2020.
I was recently contacted through another website for musicians in their "What are they doing now" section and decided it was time to update this page also with the same content I added to their site. It is five years ago since I updated this page, so an update is well overdue.
In the recent years I retired from my photography business and closed the photography studio. A combination of business demand and a changing industry led me to make the decision. I had enough, it was getting harder and harder to get paid, costs kept increasing while prices fell to an unsustainable level, the marketplace is saturated with photographers and the industry was not a nice place to be in anymore. Photographers are now needed less and less with the digital revolution and it's just a matter of time before the profession becomes similar to the typesetters in the print industry. Anyway, I'm not complaining …. I had many good years, many good and loyal customers and made a living for over 30 years.
I have converted part of my photography studio into a private recording studio solely for my own pleasure and enjoyment. This is not a commercial enterprise in any way but a pass time for me in my old age!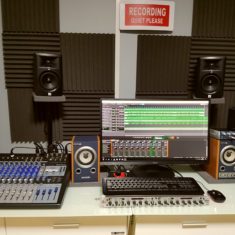 I have produced four CD albums of my own music here to date and one for our own group, Wagonwheel. Again, not commercial productions but should anyone wish to get CD copies I will pass them on.
In January 2020 after a chance meeting with Brendan Gavin, the owner of Coastline Radio in Dublin that I took on the role of presenting a country music programme on the internet station set up by Brendan. This venture has become a huge success. Later in the year I was contacted by Stephen Doherty the CEO of Phoenix Country Radio in Derry City to see if I would do some similar programming on his station. I accepted this honour and nowadays present a number of weekly shows on each of the stations. 

This page was added on 25/10/2014.